Fandango Pitcher
The Symbol of the Heisey Collectors of America, Inc.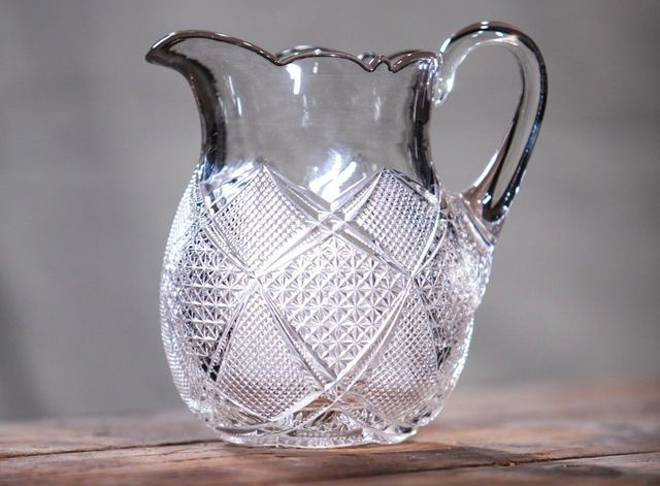 HEISEY'S FIRST PATTERN
Minnie Watson Kamm in her fifth book on pattern glass illustrates a pattern, not identified to a particular glass company, called Diamond Swag. To quote her description, "Pour long swags extend from the rim to the base; with inverted arches across at the base, each broad arch overlapping the adjacent one on the center-side very near the base a diamond is inserted at this crossing. The glass sparkles and is crystal clear". In her sixth book on pattern glass she includes a page from a trade magazine which identifies this pattern as Heisey's No. 1201. It was at this time she stated this was Heisey's first pattern. In her seventh book on pattern glass she includes several plates from Heisey trade catalogs, one of which is No. 1201.
Ruth Webb Lee, another student of American Glass, included this pattern in her book on Victorian Pressed Glass and called it Fandango. Most of todays collectors call this pattern by this name. The early trade catalogs contained only the numbers of the different patterns. Most of the names were applied by the collectors and authors.
Whether Fandango was actually the first pattern manufactured by the A. H. Heisey Co. in Newark, Ohio, we will probably never know. If one uses the numerical sequencing then No. 1200, Cut Block, could be one of the first major patterns. Minnie Kamm shows this pattern in her sixth book and calls it Heisey's No. 1200.
We have seen a complete early Heisey catalog, undated of course, containing only the complete line they made in No. 1200. We own a complete early Heisey catalog showing the complete lines of four major patterns, 1201 (Fandanqo), 1205 (Fancy Loop), 1220 (Punty Band) and 1225 (Plain Band). This catalog contains more than 90 different molds in Fandango. The early patterns were made to resemble cut glass so popular at this time. The design pressed into the glass is usually very sharp and detailed. Many times the glass is very brilliant and clear. This pattern has become very collectible and in this part of the country it brings a very good price. The complete line in this pattern is included in Vogel Book IV and has been found only in crystal, sometimes decorated with gold. This pattern has not been found bearing The Heisey Trademark.
Even though factual proof is lacking, Fandango is generally considered to be Heisey's first major pattern among today's collectors. -- Loren Yeakley
Vol. 1 No. 1 / Official Publication Heisey Collectors of America / Jan. 1972